N053: VGF U5-25-Wagen
Last Update: 2019/12/28
Updates planned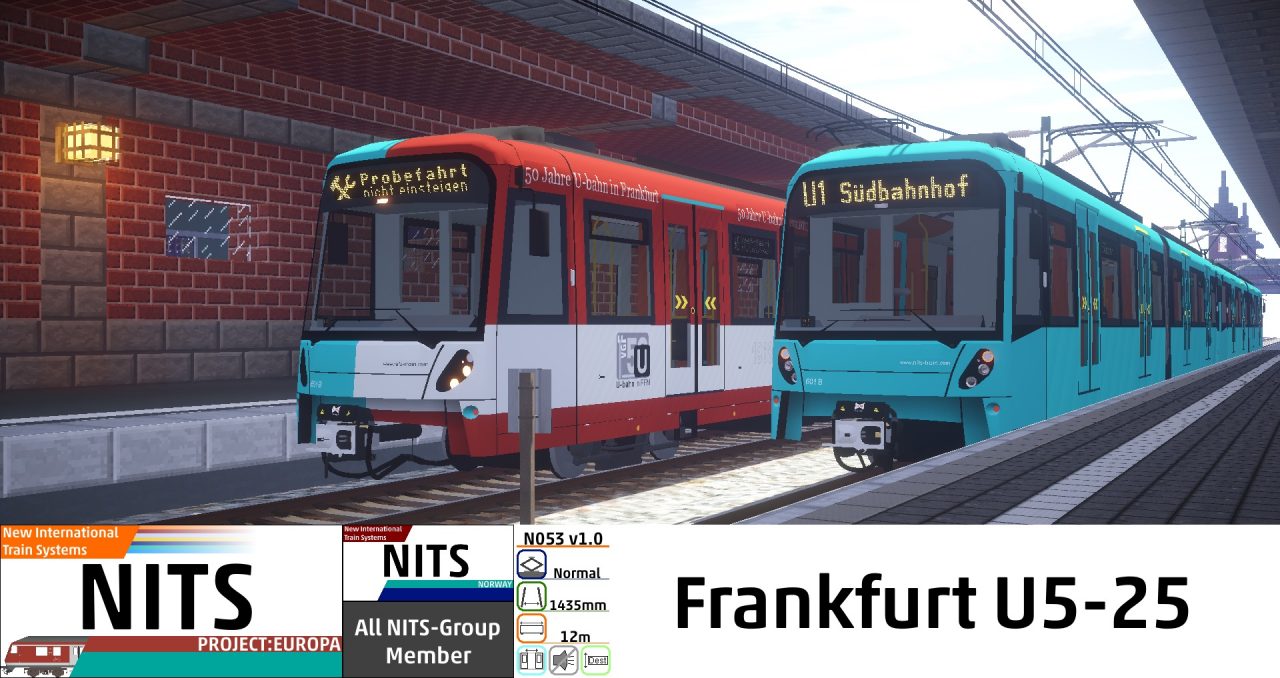 Die neuste Stadtbahnbaureihe in Frankfurt ist die U5 vom Bombardier. Die Untergruppen -50 und -ZR werden demnächst folgen. Gefahren werde diese Fahrzeuge von Solo bis maximal vier-Wagen-Züge.
U5 is the latest train series of the Frankfurt U-Bahn. Other category-types of the series (-50 and -ZR) will be added soon.
2008年以降にボンバルディア社で製造された当形式は、フランクフルト地下鉄で最も新しい車両です。全路線で運行されており、単編成から最大4編成を組んで運行されております。
Thanks to:
- NITS-Norway: Managing the Project & Making the cars)
- NITS-Berlin: Making the Coupler model
- ATEC: Making the bogie model
- K-TREC: Scripting & writing the json
- Starlight & Hakutetsu & Naritachi (old NITS-Member): Research
- Sagakura (old NITS-Member) & Shinku (old NITS-Member): Sound
- Bantetsu (old NITS-Member): Debug
Readmeをお読みになってからご利用くださいませ。
Please open the ReadMe file before use!
Bitte erst den ReadMe öffnen!
DL Password: n053addon
・Packの改造、再配布は禁止です。
・Reproducing or changing the file is forbidden.
・Das Ändern oder Kopieren der Dateien ist urheberrechtlich verboten.
・禁止轉載・禁止私自改造此Pack.
・禁止轉載・禁止转发改造此Pack.
・전재・복제・개조 는 금지입니다.
・Ремоделирование, перекраска и другие изменения файлов запрещены.